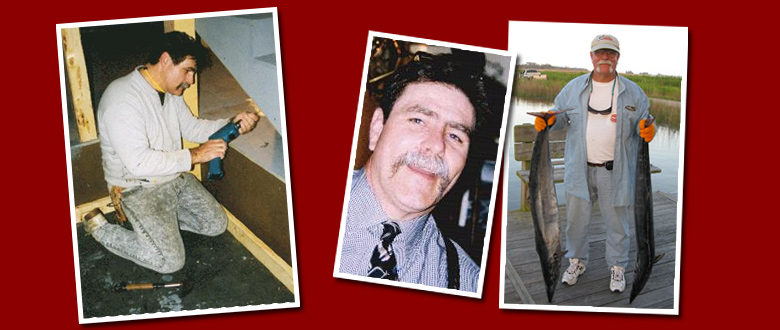 Professor David C. Granath arrived on this campus thirty years ago to serve as our resident scenic and lighting designer.  In the course of his career, he has taught over a hundred different classes, designed scenery and lighting for over a hundred shows, and has served as the technical director for almost every production of the University Theatre since he arrived.
In addition to teaching students in the classroom, he has supervised several dozen as assistants in the theatre shop.  Some of these artists have gone on to receive graduate degrees at schools like Boston University and Virginia Commonwealth University.  Many of his former workers have gone on to professional careers as designers and technicians.   Students who have been mentored by Professor Granath have worked at places like Williamstown Theatre Festival, Actors' Theatre of Louisville, Lexington Children's Theatre, Peach State Summer Theatre, Unto These Hills, the McCarter Theater at Princeton University, and other schools and theatres in the southeast.
For those of us here at Francis Marion University, though, Professor Granath's presence is most obvious in the work he has done with the University Theatre over the years.  His faculty position is unusual in that a large part of his responsibility falls outside of the classroom.  As the technical director for the theatre, he spends hundreds of hours each year designing, supervising, building, painting, hanging lights, searching for properties, setting cues, running technical rehearsals, and any other job required to ensure that our shows are of a professional quality.  It is not unusual to see him here before daylight on a Saturday or a Sunday as we get close to opening a show.  There has not been one single performance in the past thirty years where Professor Granath was not present backstage or in the control booth.  Considering the number of shows presented by the University Theatre, that's a total of  12-20 hours for each production, or 40-60 hours each year.  In other words, Professor Granath has spent two to three months of his life in FMU theatre spaces just for the performances.  Consider that for every performance, a technical director has generally spent close to 500 hours working on that show.  In other words,  Professor Granath has spent over three and a half years (of 24 hour days) of his life in this scene shop and theatre to make sure that our productions were of a professional quality, that our students were professionally trained to work on a production, and to make certain that everything ran safely and smoothly.
This production marks the last production at Francis Marion University of Professor Granath.  So, before Always a Bridesmaid begins, take a moment to look at the set and the lighting.  Notice the beautiful scenery and the exquisite lighting.  Notice the quality of detail in construction and painting.  Notice the attention paid to mood, environment, and illumination with the lighting.  Consider how naturally the scenery and lighting fade into the background as you watch the actors perform, creating a natural environment that enhances the performances.  This doesn't happen by accident.  This is hard work.  This is dedication.  This is craftsmanship.  This is artistry.  This is David Granath.
Francis Marion University, the Department of Fine Arts, and, especially, the theatre faculty, alumni, and current students express enormous gratitude and appreciation to Professor David C. Granath upon his retirement.  His commitment to this program and department shall be remembered well, and his presence will be sorely missed.  We hope the best for him from this day forward.